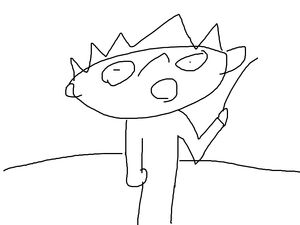 Arnold, a
human
Heyarnold
was the original protagonist of Patrick Adventure until he accidentally killed himself. Arnold was known for being a dick and occaisionally losing his jaw. He resembles the protagonist of cartoon "Hey Arnold" but is rarely drawn with fingers. Although supposedly quite smart, he never was in practice.
Level: 2
Strength: 2
Geniusness: 5
Ninjousity: 4
Pulchritude: 3
Bailing: 1
Jam making: 0
Make up application: 0
Twig breaking: 2
5 Bad Karma
-3 relative Sanity
Although Arnold generally does not hold grudges, he has accumulated many enemies, including the shopkeeper and every trucker ever. He also appears to have a feud with the goblins, though it is unknown whether they actually exist or are just figments of his imagination.
Community content is available under
CC-BY-SA
unless otherwise noted.