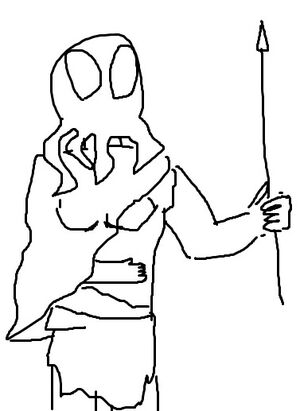 Ct'lantp Htnitlope [sic] of the Cthulhu-kin is the transexual main character of Sean Adventure. The elder Cthulhu-kin cast her out of Cthon-Prime because she decided to change her gender for yet-to-be-known reasons. She was exiled to the planet on which the story takes place and ended up in the plains of Nkahg.
Strength: 4
Ninjousity: 2
Geniusness: 2
Pulchritude: 3
Ct'lantp detests her family and they detest her. Her uncle, F'hgarqu'ixal, put another cursed shackle on her when she was a slave of the merchants.
Community content is available under
CC-BY-SA
unless otherwise noted.