The Old Man or The Pyromaniac Pensioner, as referred to once, is an antagonist in the Tom Adventure. He is introduced in the second frame of the Adventure and is portrayed in a cloak riding his caravan. He encounters Phillip Featherfeet when Phillip attempts to ransack his caravan for gold and old-age narcotics.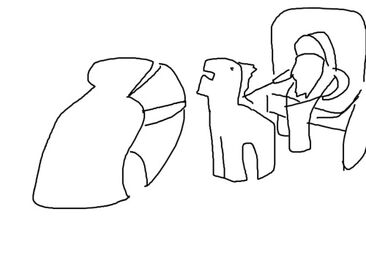 The Old Man creates a rivalry between the two by retaliating at Phillip for threatening him at bowpoint by throwing his motherfucking horse at him. The attack is successful in pinning Phillip down allowing The Old Man to abscond to the sky.
The Old Man later returns armed with jets on his caravan and missiles. The man launches a barrage that leaves Phillip unscathed but wipes out the shitty village of Dunthirp.
This helps and also creates problems later down the road for Phillip.